Syrian conflict animation
28 Sep 2020
Some time age, Håvard Strand (on Twitter as @HaavardStrand and I made a multipanel animation of data on casualities in the Syrian war. We created each panel independently of the others and combined them using ImageMagick.
The animation attempts to describe events in the Syrian Civil War between 2016 and 2019 along three dimension: Spatial, temporal and organizational. The plot is based on data from Uppsala Conflict Data Program (UCDP).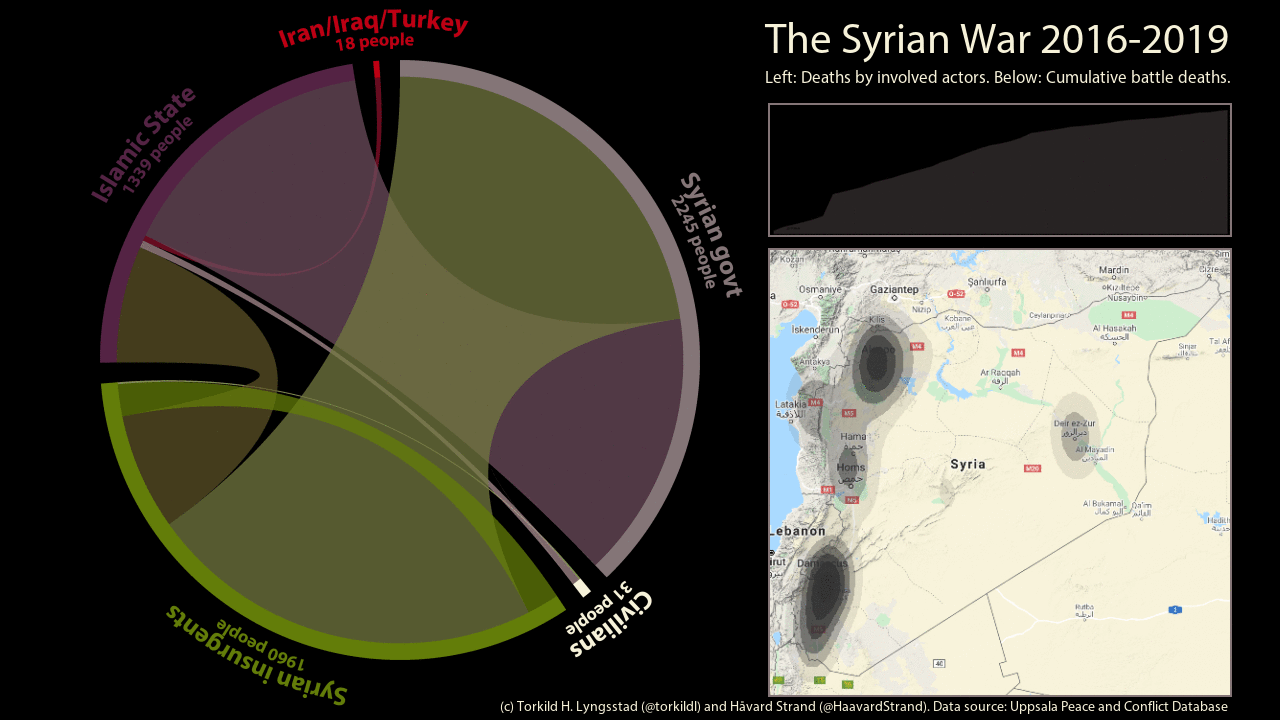 Starting in the upper right cell, we see a cumulative histogram over the number of fatalities recorded by UCDP in this time period. The conflict itself started in 2011, which is why we do not provide an axis. 2016 does not constitute a starting point, in fact, quite the opposite, as the war was de-escalating from the top years of 2014 and 2015.
In the lower right cell we have a heat map of the conflict as it unfolds. Every heat map frame is based on data for a calendar month regardless of snapshot date. If a given frame is captured on 5 May 2017, it includes data from this date and until 5 June 2017.
The circular plot on the left shows the relative importance of key actors at various stages of the conflict. To increase readability and conforming to data limitations we have grouped a number of actors together. The Syrian government is the most important actor and remain a separate entity. Likewise, the Islamic State is a separate actor, while the other Syrian insurgents are lumped together. While these actors sometimes fight each other, they are more often in more or less formal alliances. As such, it is difficult to assign casualties to individual organizations. Finally, civilians are a distinct category.
The circular graph is non-directional, because the data does not allow us to disaggregate who killed whom with enough precision. UCDP do in some circumstances differentiate casualty figures between the participants in an event, but when this is impossible, a combined figure is presented. We tried to use the distribution of known fatalities to estimate the distribution of the combined figure, but we did not find the resulting numbers trustworthy. The number associated with each actor is the total number of fatalities in events where each actor has been involved.
In the future, we will make an updated version that possibly also will cover a longer period. Suggestions for improvements, they be aesthetical or analytical, are very welcome!
---